Thieves® essential oil is a powerful combination of essential oils for an aromatic blend that fills any space with a rich, spicy aroma. Inspired by the legend of Four Thieves Vinegar, this blend is one of Young Living's most popular products.
With the benefits of Thieves oil including cleaning power and an irresistibly spicy scent, Young Living offers it as an essential oil blend and as an important ingredient in a full range of home cleaning and personal care products, from dish soap to toothpaste. Looking to make your home smell as clean as it looks? Diffuse Thieves oil throughout the house for an aroma that makes every room smell more like fall baking than harsh cleaning formulas.
Related Posts
How To Use
Caution: Keep out of reach of children. If you are pregnant, nursing, taking medication, or have a medical condition, consult a health professional prior to use. If contact with skin occurs, avoid direct sunlight or UV rays for up to 12 hours.
Refresh musty carpets by adding 5 drops of Thieves to a cup of baking soda; combine well and let sit overnight until the oil is absorbed. Sprinkle over carpets and vacuum thoroughly.
Diffuse 6–8 drops of Thieves to help create an environment of peace and security. Customize your Thieves experience by adding a few drops of Orange, Tangerine, or Nutmeg essential oil.
Thieves Essential Oil Ingredients
Clove (Syzygium aromaticum)†
Lemon (Citrus limon)†
Cinnamon (Cinnamomum verum)†
Eucalyptus radiata†
Rosemary (Rosmarinus officinalis CT 1,8 cineol)†
† 100% pure, therapeutic-grade essential oil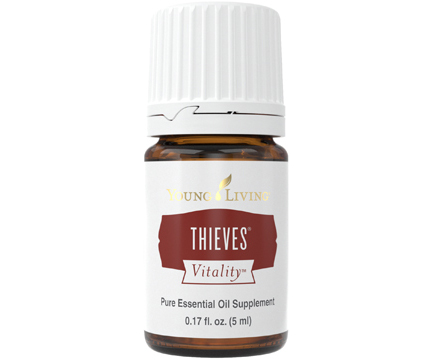 See Thieves Vitality
Identical premium-quality oil.
Different label for use as
DIETARY SUPPLEMENT.
* This statement has not been evaluated by the Food and Drug Administration. This product is not intended to diagnose, treat, cure or prevent disease.